Combo Bouncers
Phoenix Combo Bouncer Rentals
On this page you will find Combination bounce houses, bounce housse with slide atteched
Bounce House with Slide Rentals For Every Party in Gilbert
A bounce house with a slide is a great option if you are looking for more than a day full of bouncing in a bounce house. Together in one unit you will have a bounce house combined with a slide. The combination takes up less space at your party and is also easier to keep an eye on your guests as they will be playing on one inflatable. If you don't have space for 2 inflatables , a bounce house with a slide works perfectly. Kids will have an awesome time bouncing and sliding all day in any of our fun bounce houses with slides.
Are you looking for a fun way to beat the heat in
Gilbert
? Most of our bounce houses with slide rentals can also be used wet to help cool the kids down. The combination will help keep the kids entertained longer. Either wet or dry, guests at your next party or event will love them.
The kids are ready to have a great time all day in the bounce house with a slide. There will be tons of laughter and entertainment. At AZ Jolly Jumper Rental, we have a selection of some of the most popular bounce houses with slide rentals in the area. Bounce house rentals have become a favorite attraction at parties, corporate events, school functions and religious festivals. The addition of a slide to the standard bounce house has made those events even more fun. The space saving design of our bounce and slide combinations take up less space at your event but are also safer too. Inflatable water slides and bouncers have been more popular than water parks and most importantly, less risk attached to these inflatable water slides. You will be able to keep a closer eye on your children. Instead of having to watch children at two different events, your party guests will be in the same place which gives parents a better piece of mind.
Children often get tired of just bouncing around for hours, but they can have more fun by just adding a slide. Kids ages 3 and up love our bounce houses with slides because of the added versatility and bonus features. These inflatable slides are used for backyard birthday parties, school functions, church gatherings, family reunions, and much more. If you're ready to enjoy hours of excitement on our quality combo, bounce and slide, then check out our selection of combos today and
book online now
!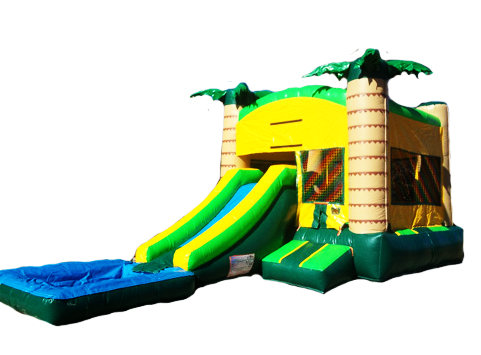 3 in 1 Tropical Bounce House Combo (Wet/Dry)
Tropical Island Combo moonwalk brings a taste of island life to any outdoor event, indoor playground or backyard party. This bouncy house combo has four unique activities for endless hours of exercise and playtime.


Bounce house
Wet or Dry Slide
Basketball Hoop
Fun 3D theme
ORDER NOW
Bounce House with Slide Rentals Made Easy
Not only is the ordering process easy and fast, but the confirmation, setup, and pickup process is a breeze!

You can choose to rent your inflatable water slide and other items with our easy online ordering system. You can also choose to call, email, or live chat with one of our team members and walk you through the ordering process.

After you rent a water slide, a member of our team will contact you within 24 hours to confirm the order. On the day of the event, your delivery driver or team will call you to verify the window in which they plan to arrive. Once we arrive, we will:



Set up the equipment in the safest location possible.
Collect payment if anything is due.
Our event attendants will show you how to operate the equipment safely. (Our attendants are also available for an additional charge if you want them to stay and operate equipment.)
Answer any questions you may have and verify pickup time.


That's it! A simple and smooth way to rent a water slide for your party!

All Bounce House with Slide Rentals Require:

Flat surface (grass, dirt, or concrete)
Power supply (outlet or generator)
Minimum of 2ft buffer around the slide (ex. a 15ftx 15ft bouncer would require 19ft x 19ft area)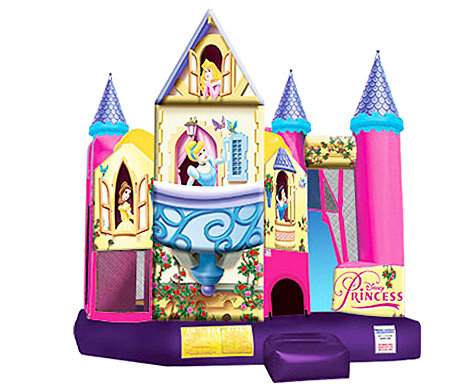 3D Princess Backyard Bounce House Slide Combo (Dry Only)
The Disney Princesses are sure to bring some magic with this licensed 3D Backyard combo! With its sweet 3D imagery, this licensed Backyard combo-style bounce house is a home for classic princesses Belle, Snow White, Cinderella and Sleeping Beauty. Girls will enjoy reigning over their castle, while boys can play the part of the gallant princes! This combo-style bounce house features a realistic 3D balcony for Cinderella. The large interior jumping area offers a basketball hoop.


Bounce house
Climbing wall
Dry Slide
Basketball hoop
ORDER NOW!
Bounce House Rentals with Slide Rentals in Gilbert?

AZ Jolly Jumpers delivers to thousands of parties and events in the Gilbert area each year. Our vast selection of inflatable water slides and dry slides, bounce houses, bounce houses with slides, mechanical rides, obstacle courses, inflatable interactive games, are a sure hit every time. We also have offer tables and chairs to make your party planning easier. At a location that doesn't have access to electricity? No problem, we even have generators available for rent to provide the power.
Our Service Area
Proud to Serve The Following Areas:
If your party or event is beyond that radius, just let us know! We may be able to make special accommodations to suit your event.
NOTE: Fees may vary depending on how far you are outside our service area.
https://www.google.com/maps/embed?pb=!1m18!1m12!1m3!1d106716.72704421326!2d-111.83400232742522!3d33.2953386948036!2m3!1f0!2f0!3f0!3m2!1i1024!2i768!4f13.1!3m3!1m2!1s0x872ba90de045ae43%3A0x6453ae977fd9ef7e!2sGilbert%2C%20AZ!5e0!3m2!1sen!2sus!4v1639600256465!5m2!1sen!2sus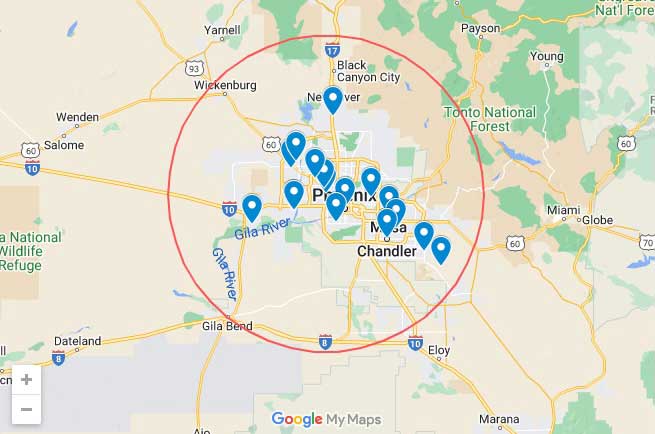 Customers Who Rented Bounce House with Slides Also Rented: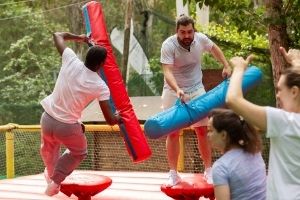 Interactive Games
Interactive games are a great way to let your guests challenge each other to see who is the best. AZ Jolly Jumpers offers sports challenges, bungee run and tabletop games to let everyone show off their skills.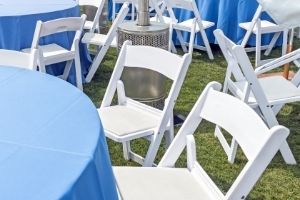 Table and Chairs
At AZ Jolly Jumpers we makes table and chair rentals easy and affordable! Every event NEEDS extra chairs and tables in case more people than expected arrive. Better to have and not need than to need and not have!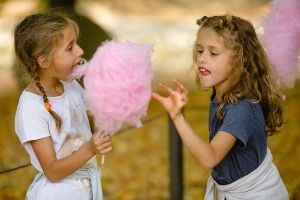 Party Snacks
Party snacks like popcorn, cotton candy and snow cones are a fun addition to any party and can easily take care of the need to provide something to eat at your party which will make your party planning easier.
Frequently Asked Questions