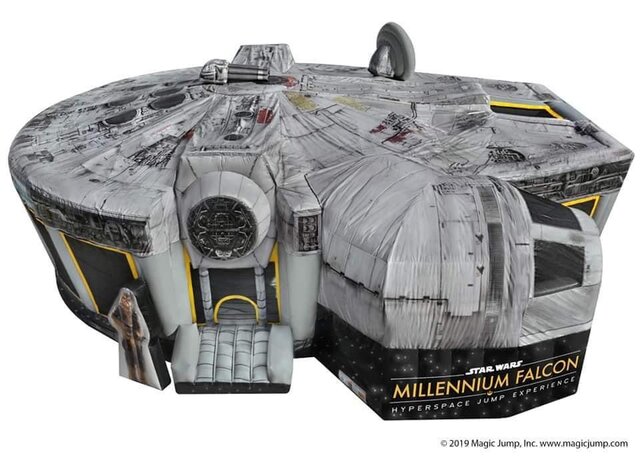 Millennium Falcon Dry Only
Actual Size: 35' x 30' x 15'
Setup Area: 45' x 40' x 18'
Outlets: 3 - 110v Household Outlet
Age Group: 6+
Attendants: 2 (attendant not included)




Looking to add an out-of-this-world element to your next event in a galaxy far, far away like Phoenix, Arizona? Look no further than our Millennium Falcon inflatable rental! This iconic spaceship from the Star Wars franchise is sure to captivate guests of all ages and make your event truly unforgettable.
Our Millennium Falcon inflatable rental in Phoenix, AZ is perfect for a variety of occasions, including birthday parties, corporate events, Phoenix Comicon, and themed gatherings. Measuring 35' x 30' x 15', this impressive replica will make a statement and transport your guests to a galaxy far, far away.
Constructed with high-quality materials, our Millennium Falcon inflatable is not only durable but also safe for all participants. It features vibrant colors and intricate details that bring this legendary spacecraft to life. Whether you're hosting a Star Wars-themed party or simply want to add a touch of sci-fi flair, this inflatable rental is the perfect choice.
Renting the Millennium Falcon inflatable also includes the option to add additional Star Wars-themed activities such as our Star Wars Wet/Dry Bounce House Slide or the AT-AT Obstacle Course that can be used as a wet or Dry Starwars Obstacle Course to enhance the overall experience. From character appearances to inflatable obstacle courses, we have a range of options available to make your event truly spectacular.
Don't miss out on the opportunity to create a truly memorable event in Phoenix, Arizona. Contact us today to reserve our Millennium Falcon inflatable rental and take your guests on an intergalactic adventure they won't soon forget! May the force be with you!
Have questions about renting the Millennium Falcon in the Scottsdale or Maricopa County areas give our office a call at 623-792-3649.
Just a reminder to do the size and detail of this inflatable it will not be setup on dirt, red dirt(soft ball or baseball fields), or surface other then Grass or concrete.
Must have a drive up location for delivery and or 6ft gate with a level clear path way to setup location.

STAR WARS Millennium Falcon Hyperspace Jump Experience is the most unique inflatable attraction in the galaxy -- and it's unlike any playland, combo unit or obstacle course ever seen before.
This is an inflatable version of the Millennium Falcon, the legendary spaceship in Star Wars made famous by Han Solo and Chewbacca for its many adventures…and for famously making the Kessel Run in less than 12 parsecs in now available for rental in Phoenix, AZ and surrounding areas.
The exterior of the Millennium Falcon bounce house features a comprehensive application of the actual graphics of the Millennium Falcon's armored hull, while the interior contains iconic features seen in Star Wars movies.
Passengers in Phoenix, AZ will encounter an inflatable Chewbacca as they enter and an R2-D2 inflatable replica and C-3PO graphic as they jump their way around the ship. Passengers will feel the rush as they imagine piloting the Millennium Falcon like Han Solo and Chewbacca as they explore the cockpit area; pretend to operate the cockpit's master control panel with its gears, switches, and buttons; and eject themselves down a small slide. In the main cabin, they'll come across inflatable pop-up obstacles such as a bunk, storage container, and holo-map where they can see a holographic-like rendering of the Death Star.
Passengers can step up to the laser cannon turret where they can pretend to defend against Imperial forces, and they can also pretend to play dejarik at the hologame table. The pièce de ré·sis·tance is the taller climber and slide in the center of the ship with ceiling hatch graphic showing explosive battle with a Star Destroyer and TIE fighters.
Designed in partnership with Lucasfilm and made with premium materials by master craftsman, the Star Wars Millennium Falcon bounce house Hyperspace Jump Experience is designed with fully licensed digital artwork. It is an epic ride, suitable for all occasions.

Featured in Star Wars, The Empire Strikes Back, Return of the Jedi, Revenge of the Sith, The Force Awakens, The Last Jedi, Solo: A Star Wars Story and Rise of Skywalker
The Original Millennium Falcon ship belongs to Han Solo, but you can still see & experience the inflatable version of the interior & exterior layout, escape pod, cockpit, schematics, diagrams of the one and only yt 1300 Corellian Light Freighter.