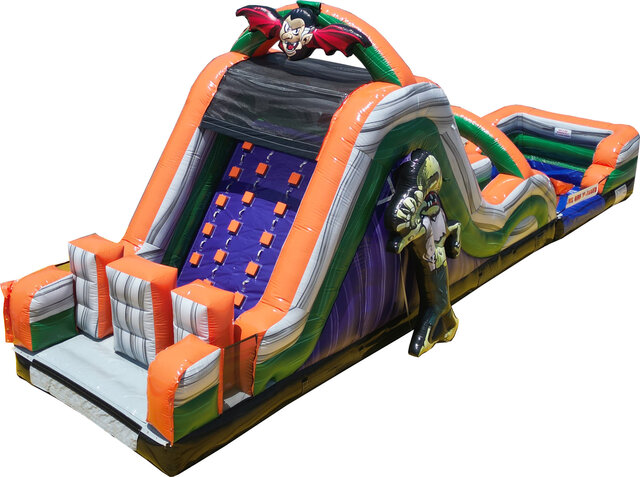 Halloween Obstacle Course Slide 3
Enjoy the sppoky adventure with our Halloween Double Lane Inflated Slide rental in Gilbert, Arizona! This thrilling attraction is perfect for Halloween parties in Gilbert, carnivals in Tempe, and Gilbert, AZ events that need an extra dose of excitement.
Standing tall at twenty feet, this inflatable double lane slide is a sight to behold. Its vibrant colors and spooky Halloween-themed artwork will instantly captivate your guests and create an unforgettable experience. The double lanes allow two participants to slide down simultaneously, adding a competitive edge to the fun.
Safety is our top priority, which is why our Halloween Double Lane Inflated Slide is designed with high-quality materials and features safety nets on both sides. This ensures that participants can enjoy the thrill of sliding while feeling secure and protected.
Whether you are hosting a small gathering or a large-scale Fall event, this inflatable slide is suitable for all ages. Arizona kids and adults alike will have a blast climbing up the stairs and racing down the slides, making it a fantastic addition to any Halloween celebration.
Renting the Halloween Double Lane Inflated Slide with AZ Jolly Jumpers is a breeze. Our professional team will handle the setup and takedown, allowing you to focus on enjoying the event. We take pride in providing exceptional customer service and ensuring that your experience with us is seamless and stress-free. Have a question give our office a call 623-792-3649.
Don't miss out on the opportunity to create an unforgettable Halloween experience in Gilbert, Arizona. Contact us today to book our Halloween Double Lane Inflated Slide rental and get ready to take your event to the next level of fun and excitement!
Wanting to rent the largest Halloween Obstacle Course in Gilbert, Arizona? Add the Halloween Obstacle Course 1 and Halloween Obstacle Course 2 by AZ Jolly Jumpers to Create our 100ft Halloween Obstacle course.