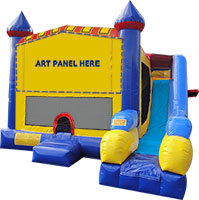 7 in 1 Castle Combo (Dry Only)
Are you ready for lots of fun! This combo is includes an extra large bounce house, 2 basketball hoops, mulitply popup obstacles, climbing stairs, and a tall 16ft slide. This 7 in 1 bounce house slide combo is sure to be a hit at your next event.
Length:
22'0" (6.71 m)
Width:
19'10" (6.05 m)
Height:
14'8" (4.48 m)
This combo is DRY ONLY!
Bounce house slide rentals 7 in 1
Tired of the plain bounce houses? Our new 7 in 1 bounce house slide combo has many different activities to keep your children occupied all day. Start by entering the bounce house and just in the large open bouncing area with basketball hoop inside. Then continue to the mini obstacle course of challenging popups that lead to the stairs. Once you have made it to the top enjoy the steep inflated slide and start all over again.